When your operators are using Chatstack there are alerts that you receive when a visitor requests a live chat.  You can configure sound alerts and popup alerts so your operators do not miss incoming chat requests. You are also able to receive popup alerts and task bar alerts as described below.
Popup Alerts
Popup alerts will allow you to receive an alert when you have new site visitors and incoming chat requests. The popup alerts are shown below.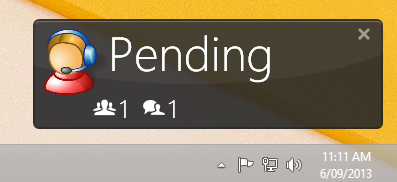 Task Bar Alerts
If you miss the popup alert when you are away from your computer, you can see any previous alerts when you return to your PC from the flashing Windows task bar state (an example screenshot is shown below).  These alerts will show within Windows XP, Windows Vista and Windows 7. The task bar alerts will not appear if you have the application minimised to the system tray (when using Windows XP or Vista). We recommend in Windows 7 that you pin the Chatstack app to the task bar in the event that if you miss any popup alerts you will still receive the task bar alerts.