When a site visitor requests support from your web site they will be added to your Pending list for your given department. As such, all users in your department will see the pending site visitor. The following illustrates a site visitor that is pending for Chatstack.
You can now accept the Chatstack request by double clicking the site visitor's name or right clicking the name and selecting the appropriate option. Once the visitor is accepted you will be able to open the chat request window and start chatting with your site visitor.
If you are using the Chatstack Windows application the live chat transcripts are available within separate windows. The Chatstack operator chat window is shown below.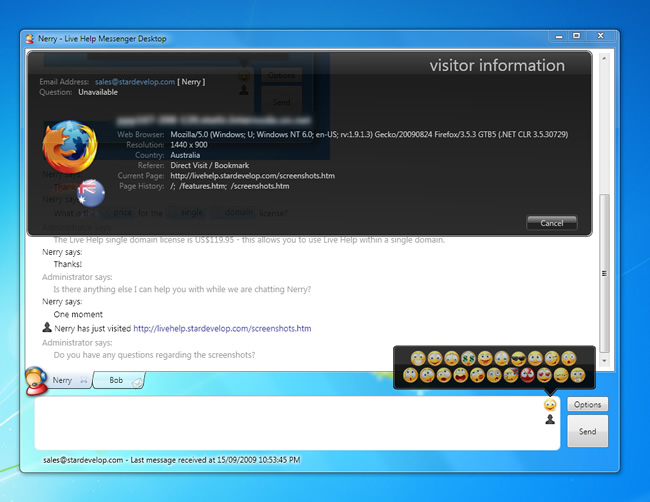 From within the Chatstack operator chat window you are able to type messages, send hyperlinks, images etc. You can access these options from the 'Options' button or by right clicking the surrounding area above and below the chat transcript.
Operator – Operator Chats
Chatstack also supports chats between Chatstack operators, this allows you to discuss business related issues with your team and may also be used to prepare for transferring a chat request. Collaborating with your team members improves overall business efficiency and allows you to effectively communicate to co-workers immediately without leaving your work area.
If you wish to open a chat with another Chatstack operator then you can simply double click on the operators username. Once you send a message to another operator they will be instantly notified of your message.